The Urdu Academy of North America hosts Mah Talat Shazi
By Abdus Sattar Ghazali
The Urdu Academy of North America hosted the Diaspora Urdu poetess, Mah Talat Shazi, who is now living in San Diego California.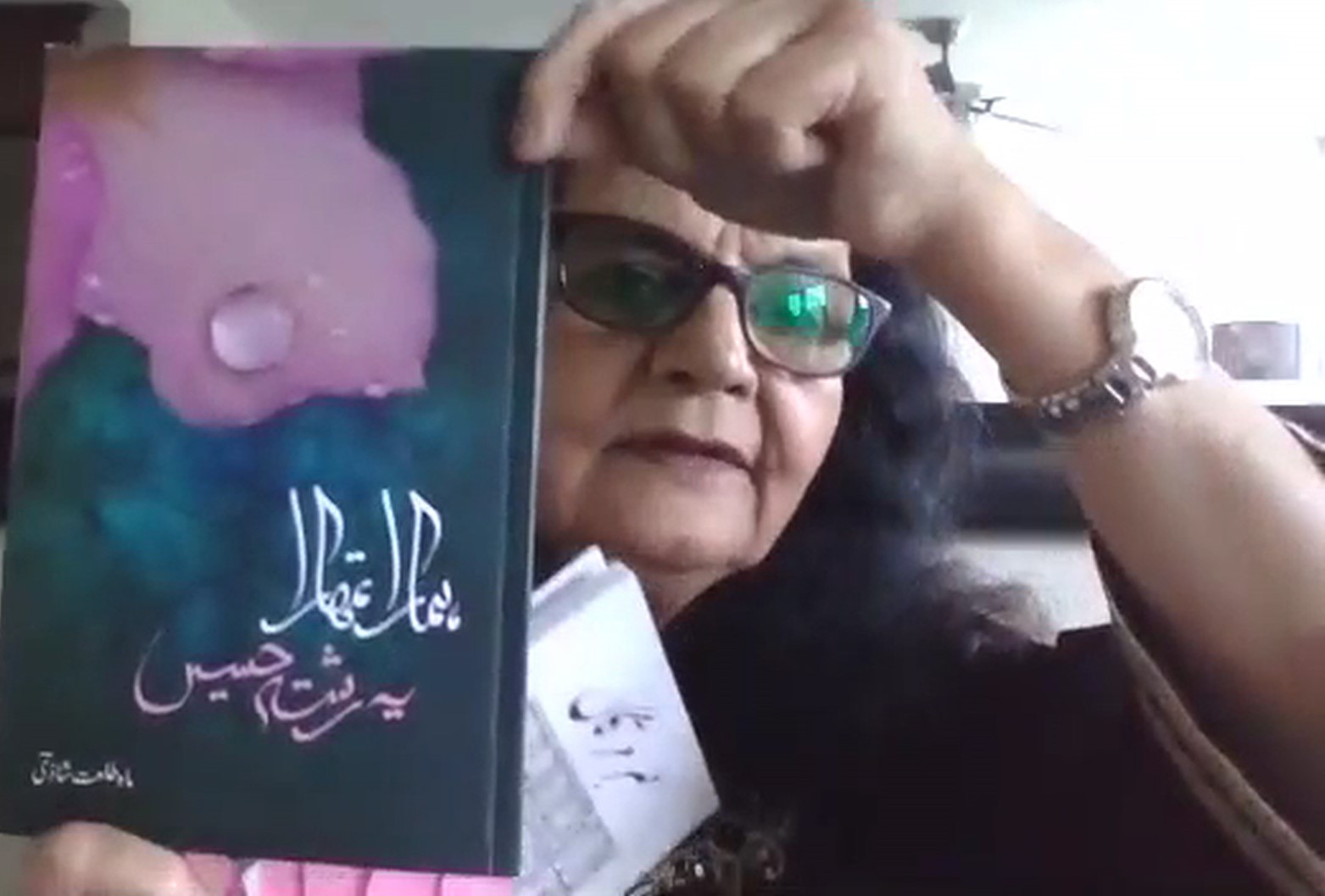 The event was held on August 16, 2020 via zoom.
Urdu Academy's most popular and talented nazima or emcee, Dr. Ghazali Ansari conducted the event.
Mah Talat Shazi's poetry is inspired by her surrounding environment, current situation, pains of life, and nature.
It is said that poetry inspired by the environment expresses overflowing feelings in carefully curated words. Perhaps this is true for Shazi's two emotional poems on the 2005 earthquake in Pakistan and the terrorist attack on a school in Peshawar.
The earthquake killed 87,350 including 19,000 children while 138,000 were injured and over 3.5 million rendered homeless. The terrorist attack on a school in Peshawar in December 2014 killing 149 people including 132 schoolchildren. These were two very tragic incidents which moved Shazi to compose these amazing poems.
Suraiya Jabeen, sister of Shazi sang her poem "Sooay Dil" that she had written for her daughter who left this temporary abode in youth.
Tellingly, Shazi's poem about the Earthquake was used for raising funds for the quake victims.
Mah Talat Shazi's latest poetic work is a poem about the recent floods and havoc in Karachi caused by torrential rains.
Two compilations of her poetry - "Saray mizhgaan" and "Hamaraa tumharaa yeh rishta haseen" - have been published. She composes both 'Nazms' and 'Ghazals'.
Mah Talat Shazi, also known as Mah Talat Najmi , was born in Azeemabad (Patna) in pre-partition India and brought up in Chittagong (East Pakistan, now Bangladesh).
She graduated from Dacca (Dhaka) University. She moved to London after marriage, where she raised a family while working in different office jobs.
After England, she lived in Malawi (Africa), working as a school teacher.
In 1979, Shazi returned to live in Karachi and continued being an educator for the rest of her career life.
In Karachi, she earned her B.Ed and Master in Special Education degrees from Karachi University.
She worked as a principal of a private school for three years, and after that she ran her own non-profit primary school in a low-income area for seven years. She also served as a volunteer teacher in two schools for children of special needs.
Shazi inherited her passion and love for poetry from her father, Dr. Waqif Azeemabadi, who was both a successful medical doctor and an award winning poet. He was also the president of Anjuman Taraqqi-e-Urdu East Pakistan.
Twenty-six years after his death, Shazi was able to get his poetry collection published under the title: "Barg-e-Khizaan Raseeda."
Shazi started composing poetry in her teenage, her poems were published in her college magazine.
Not surprisingly with family, work and other responsibilities, her passion for poetry took a backseat.
After settling down in Karachi and with the strong encouragement and support of her old college best friend, she started composing poetry again.
Her poetry is inspired by her surrounding environment, current situation, pains of life, and nature. She composes both 'Nazms' and 'Ghazals'.
Shazi joined Urdu Academy of North America in the Bay Area in 2007, attending its program sessions every year druing her visits from Karachi.
Finally, she moved to San Diego nearly four years ago, where she lives at present.