Urdu Academy North America pays tribute of Ibrahim Zauq
By Abdus Sattar Ghazali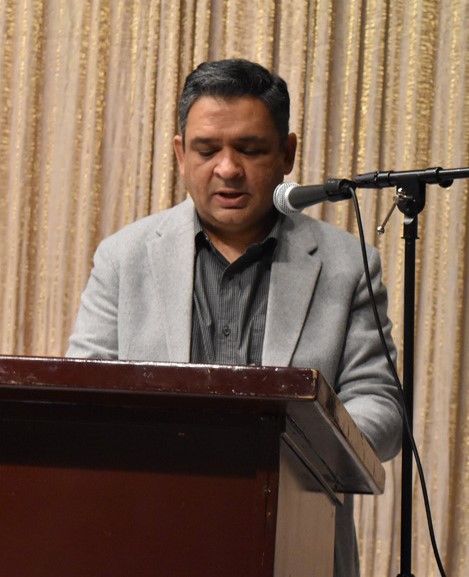 The Urdu Academy of North America dedicated its monthly literary session of February 19, 2023 to the life and work of great Urdu poet Muhammad Ibahim Zauq. The event was held at Chandni Restaurant, Newark, CA.
Zeeshan Abbasi, MC of the event, presented a well researched maqala on the life and work of Zauq.
A number of Urdu enthusiasts presented Zauq's poetry: Irfan Siddiqui, Akhila Mangesh, Abdus Sattar Ghazali, Anjum Zishan, Moiz Khan, Talat Shazi, Suraiya Jabeen, Anitha Dixit and Kehkashan Kifayat. This move shows presentations by , Moiz Khan, Talat Shazi, Suraiya Jabeen, Anitha Dixit and Kehkashan Kifayat.
Sheikh Muhammad Ibrahim Zauq (1790–1854) wrote poetry under the pen name "Zauq." He was appointed poet laureate of the Mughal Court in Delhi just at the age of 19. Later he was given the title of Khaqani-e-Hind (The Khaqani of India) by the last Mughal emperor and his disciple Bahadur Shah Zafar.
Zauq was a prominent contemporary of Mirza Assadullah Ghalib. In the history of Urdu poetry the rivalry of the two poets is quite well known
.
It is said that during his lifetime Zauq was more popular than Ghalib for the critical values in those days were mainly confined to judging a piece of poetry on the basis of usage of words, phrases and idioms. Content and style were not much taken into account while appreciating poetry.
Zauq was born at Delhi in 1790. His father, Sheikh Muhammad Ramzan was a lowly placed soldier in the Mughal army.
His father had no means to equip his son with the best available education of the time. He was sent to a maktab (elementary religious school) that was run by Hafiz Ghulam Rasool. Hafiz himself was a poet and used Shauq as his pen name. Under his influence the young Muhammad Ibrahim also got attracted towards poetry. Hafiz provided the required encouragement, took him as his pupil in poetry too and suggested Zauq as his pen name.
Another poet, Meer Kazim Husain Beqarar, a friend of Zauq's was appointed the mentor of the Crown Prince Zafar, who later ascended the throne. Through him Zauq could get the chance to enter the royal court. He also started participating in the royal mushairas.
Later Crown Prince Zafar appointed Zauq as his mentor. He remained the poet laureate of the Mughal Court till his death in 1854.
Zauq's reputation in Urdu poetry is because of his eulogies that reflect his command over the language and his expertise in composing poetry in extremely difficult meters. Since he got associated with the royal court right from his teens and remained there till his death, he had to write mostly eulogies to seek the patronage and rewards from the princes and the King.
Since Bahadur Shah Zafar was fond of using simple and colloquial diction, Zauq too composed his ghazals using simple words, phrases of everyday use and similes rooted in the common culture.
Zauq died in 1854, and today his grave lies in a bylanes of Paharganj, Delhi. His grave was restored after the Supreme Court orders in early 2000s, but his home in nearby Nabi Karim area, was never identified.
Major portion of Zauq's poetical output got lost because of mutiny of 1857. Maulana Muhammad Hussain Azad compiled a slim volume of his poetry with the help of his pupils like Hafiz, Veeran, Anwar and Zaheer that contains twelve hundred couplets of Ghazals and fifteen Eulogies. Even though much of his work was lost, he left behind a legacy of ghazal, qasida, and mukhammas.
Much of his work was lost during the mutiny of 1857 but, fortunately, enough of it survived for future generations to enjoy.
Ghalib and Zauq
The rivalry between Ghalib and Zauq was intense at that time. Zauq was a court poet of Bahadur Shah Zafar, while Ghalib was alcoholic.
Ghalib used to think that his entry to royal court is becoming tough because of the influence of Zauq.
Zauq was more popular at the time because it was the time when the easy poetry was considered as good. Ghalib was good but his poetry was tough for common people.
Critics favored the Zauq, maybe because of Royal status or the arrogant nature of Ghalib.
Watch videos See more pictures