Urdu Academy pays tribute to Kaifi Azmi
By Abdus Sattar Ghazali
The March 21, 2021 literary session of the Urdu Academy of North America was dedicated to the life the work of prominent Urdu poet Kaifi Azmi. Arshad Rashid, senior member of the Urdu Academy welcomed the audience on behalf of the Academy.
Zeba Rizvi was MC of the event. She presented a well researched maqala on the life and work on Kaizi Azmi.
A number of Urdu enthusiasts recited the poetry of Kaifi Azmi: Priyanka, Tasadduq Hussain Attari, Bano Vijaypura, Mahmood-ul Hassan, Abdus Sattar Ghazali, Vijay, Qazi Habi, Hatem Rani, Minoo Puri, Dr. Anshuman Chandra and UV Ravi.
Another interesting feature of the event was melodious presentations of Kaifi Azmi's poetry by Priyanka, Vijay, Minoo Puri, Dr. Anshuman Chandra and UV Ravi.
Athar Husain Rizvi, better known as Kaifi Azmi, was a famous Urdu poet and lyricist of India movies. Kaifi Azmi was born 102 years ago on January 14, 1919 in Mejwan, Azamgarh, Uttar Pradesh. He wrote his first-ever ghazal at the tender age of eleven. This ghazal went on to become a rage in pre-Partition India and has also been sung by the legendary ghazal singer Begum Akhtar. Here are a few lines:
Itna toh zindagi mein kisi ki khalal padhe
Hansne se ho sukoon na rone se kal padhe
Muddat ke baad usne jo ki lutf ki nigaah
Jee khush toh ho gaya magar aansu nikal padhe
Jis tarah hans raha hoon main pee pee ke ashk-e-gham
Yun doosra hanse toh kaleja nikal padhe
Azmi abandoned his studies of Persian and Urdu during the Quit India agitations in 1942. As a progressive writers Azmi started to win great acclaim as a poet and became a member of Progressive Writers' Movement pioneered by Sajjad Zaheer.
At the age of 19, he moved to Bombay (now Mumbai) and joined Ali Sardar Jafri in writing for the Communist party paper. In 1947, he visited Hyderabad to participate in a mushaira. There he met, fell in love and married a woman named Shaukat Azmi. She later became a renowned actress in theatre and films.
Azmi's first collection of poems, Jhankar was published in 1943. As a lyricist and songwriter, though he wrote for numerous films, he will always be remembered for Kaagaz Ke Phool (1959), Haqeeqat (1964), Heer Raanjha (1970).
Azmi died on May 10, 2002. He was the recipient of Padma Shri, one of the Indian Government's highest civilian awards. Besides he was awarded the Uttar Pradesh Urdu Academy Award, Maharashtra Urdu Academy Award, Delhi Urdu Academy Award. He has also been honored with a doctorate from Vishva Bharati University.
Films and lyrics: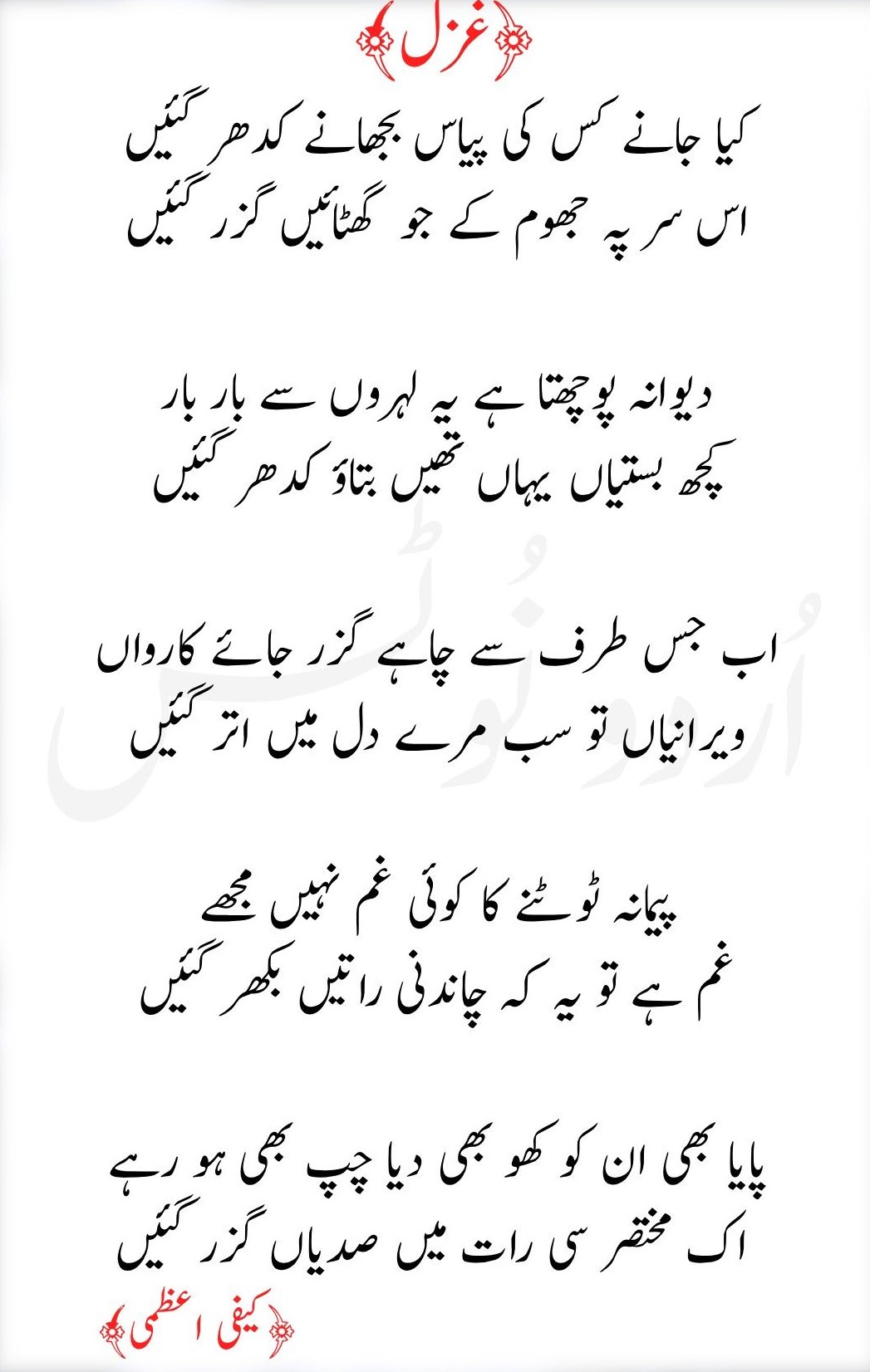 Kaifi Azmi or Kaifi Sahab, as he is respectfully known, worked on films like Yahudi ki Beti (1956), Parvin (1957), Miss Punjab Mail (1958), Id ka Chand (1958) as a writer. In Guru Dutt's all-time classic, Kaagaz Ke Phool, Kaifi Azmi contributed by writing the unforgettable song Waqt Ne Kiya Kya Haseen Sitam Tum Rahe Na Tum Hum Rahe Na Hum which expresses the anguish of two people who have loved and lost each other over a period of time. A few other films Kaifi Azmi wrote lyrics for are Chetan Anand's Haqeeqat (1964), dubbed India's greatest war film; Kohra (1964), Anupama (1966), Uski Kahani (1966), Saat Hindustani (1969), Parwana (1971), Bawarchi (1972), Pakeezah (1972), Hanste Zakhm (1973), Arth (1982) and Razia Sultan (1983). He also played a memorable role of Naseem's grandfather in Naseem (1995).
Kaifi Azmi is also credited with writing the dialogues for Shyam Benegal's Manthan (1976) for which he won the national award for best dialogue. For a documentary made by M.S. Sathyu on Ghalib, Kaifi Azmi had also got Ustad Amir Khan to sing a ghazal.
Kaifi Azmi has been awarded the Padma Shri (1974); Uttar Pradesh Urdu Academy Award; The Sahitya Akademi Award for his collection, Awara Sajde; Sahitya Akademi fellowship for the entire body of his work (2002); National Award for screenplay and dialogue for MS Sathyu's 'Garm Hawa' (1974); National Award for dialogue of Shyam Benegal's 'Manthan' (1977) amongst countless others.
Kaifi Azmi suffered a brain haemorrhage on February 8, 1973, which had paralyzed him. However, he never gave up hope and decided to leave the comforts of life in Bombay and settle in Mijwan, a tiny village in Eastern UP's Azamgarh where he was born. Mijwan was then untouched by development and didn't even have a pin code. Today it's known all over the world due to Kaifi Sahab's persistent efforts to uplift the village. He then set up an NGO, Mijwan Welfare Society, to aid in women empowerment and focus on the welfare of the girl child.
According to Hindustan Times, an annual fashion show is now organized by veteran actress Shabana Azmi which sees Bollywood and fashion industry's A-listers participate. The fashion show, by and large, focuses towards showcasing the exquisite craft of chikankari.
Melodious presentations of Kaifi Azmi's poetry at Urdu Academy literary event